Managing Director Message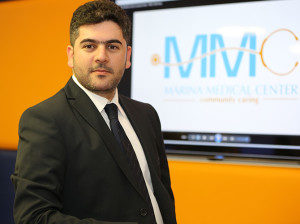 At Marina Medical Center, we have developed a patient centric approach that takes into account the overall community it interacts with. This is sincerely reflected in our practiced motto "Community Caring".

It is true that the quality of services offered to our patients is unique as they have a personalized relationship with all clinicians who make sure that patients are provided with expert care tailored to their specific needs.
We thrive to attracting an outstanding charismatic team of clinicians who have been hand-picked from around the world. At Marina Medical Center, we speak English, Arabic, German, Russian, Urdu, Persian, Turkish and Tagalog.
Our philosophy is to serve our community with a mindset of excellence and latest healthcare innovation. We believe that an integral part of being a community healthcare provider is to share knowledge and promote your health and the health of your beloved ones.
It is through the valuable feedback of each and every one of you that we are continuously improving our standards of care and upgrading our services offering.
We look forward to becoming your healthcare provider of choice.
Dr. Abdulrazak Mahmandar 
Managing & Medical Director